My daily reading list includes a fabulous blog,
Understan
d Blue
,
owned by Lydia Fielder(Lydia is the artist that designed my blog banner.)
Because of Lydia's post Monday, I found out about a very special blog hop she is participating in this week, one that really hit close to home for me as I have a daughter the same age as Jaimie
Cates
. You can read Lydia's post and see her card
here
.
To find out what this hop is all about, please go to
the special blog
that has been set-up to see how you can help Jaimie and her family.
Along the way, you will see some very talented and inspirational artists sharing their creations to help
Spread the Love

.
If you have the chance, please send a card to Jaimie to let her know that there
are
people that care and wish her well.
My daughter wanted to help make a card for Jaimie, so this is what we came up with...
She water colored the flowers and butterfly and popped the large flower and butterfly on
dimensionals
. It's hard to see, but she also used Twinkling H2Os on some of the flowers. We wanted to keep it simple yet cheerful. I think she did a great job!!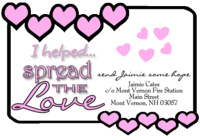 Kym